Post by Tami Durbin on Jun 20, 2005 18:08:23 GMT -6
Dear China Painters,
Marci and Betty of PPIO have generously donated this lesson
on Forget-Me-Nots. I have the links and the last page is on
the members only page of PPIO. I will copy this for you and
place it here.
Thank you again Marci and Betty for your generosity to the
CT&A Forum
Note: Due to the amount of pictures and copying, I have the first
two fires represented by links. The third fire is on the Members
Only pages of PPIO, so I have copied this for you.
Links:
Forget-Me-Nots:
www.porcelainpainters.com/learn.htm
First Fire:
www.porcelainpainters.com/PPIOClass/forgetmenots/default.htm
Second Fire:
www.porcelainpainters.com/PPIOClass/forgt2ls/forgt2ls.htm
Third Fire:
This is what the finished forget-me-not plate ended up looking like. My initial thought on this piece was to do dark blue scrolling to tie the groupings of forget-me-nots together.....but after I did one set of scrolls, I decided that the blue looked too heavy, so I wiped it off and started over, this time with Rosebud's White china paint. ( Rosebud's White paint can be found on her catalog on PPIO ) .... You can also use enamel or base for gold to accomplish the same thing....but I didn't want raised scrolling on this piece. ( Base for gold and enamel will give you a raised surface.....which is ALSO very attractive...)
~~~~~~~~~~~~~~~~~~~~~~~~~~~~~~~~~~~~~~~~~~~~~
This is what the piece looked like with the blue scrolling. It worked fine...but I decided I wanted a lighter look to the piece...and also I didn't feel that the blue stood out enough in some of the areas, so I went with white scrolling. Since the overall piece was fairly dark, I decided that the white would make the piece feel a little more delicate.
~~~~~~~~~~~~~~~~~~~~~~~~~~~~~~~~~~~~~~~~~~~~~
This closeup shows an area of scroll work from the piece. You can see how I worked it into and around the flowers to tie the floral designs together. Also note the scrolls that have the arrows pointing to them.....By applying a little pressure to the brush as I worked the stroke, it pulled some of the paint out of the center and make a pretty sort of double scroll effect.
OK, now, lets take this step by step:
~~~~~~~~~~~~~~~~~~~~~~~~~~~~~~~~~~~~~~~~~~~~~
WHAT TO USE: You can do scrolls with china paint thinned with pen oil or a similar non-running medium, base for gold or structure or enamel (mix these with enamel medium or else with a thick oil like balsam of copaiba or fat oil till the mixture just barely holds together...then thin with turp.....).... you can even use Liquid Bright gold or Roman gold to do scrollwork ...( Liquid Bright worked over fired china paint will have a slightly matt sheen that resembles Roman gold as opposed to the shiny, slightly brassy look of LB Gold on bare glazed china.... You can also use LB gold over fired structure or base for gold.....)
BRUSH: a good brush to use is a long synthetic or natural bristle liner if you are making painted scrolls... What you are looking for is a brush that has long bristles that you can fill with paint so you can make a long unbroken stroke...but that has some snap and life to it......... if you are working with the thicker pastes ( base for gold, structure, etc) , you might find it easier to work with a shorter bristled liner and also one that is a little stiffer so a synthetic bristle works well for this....and some painters use an enameling tool which is a sharpened needle-like tool with a handle.....
~~~~~~~~~~~~~~~~~~~~~~~~~~~~~~~~~~~~~~~~~~~~~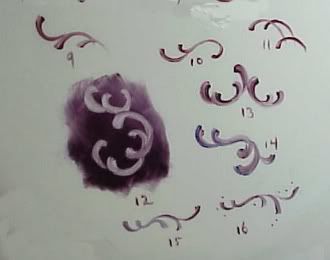 Here are some variations on the basic strokes:
9. is a C stroke with the next C strokes curved in the opposite direction.
10. Has 2 opposing strokes meeting in the middle like the U stroke but the stroke on the right curves in the opposite direction....
11. you can overlap strokes for interesting effects
12. You don't always have to paint in the scrolls... you can wipe them out of wet paint for a nice effect... ( a pretty variation to this is to come back on the next fire and underline the scrolls( see # 13)with gold or white.
13. shows painted scrolls with darker accents underlining them ( this is also nice done with gold to underline but the gold must be added in a separate firing.
14. and 15. show different variations on scrolls
16. shows one more variation....the addition of small dots to the design......this is optional but it can sometimes really help to lighten up a design that is too heavy looking or it can help to balance a design without overloading it.....
To be continued on the next post...